The Iran nuclear deal framework was a preliminary framework agreement reached between the Islamic Republic of Iran and a group of world powers: the P5+1 (the permanent members of the United Nations Security Council–the United States, the United Kingdom, Russia, France, and China) plus Germany), plus the European Union.
On July 14, 2015, the Joint Comprehensive Plan of Action (JCPOA) between Iran and the P5+1 and EU, a comprehensive agreement based on the April 2015 framework, was announced.
According to Press reports, the implementation of JCPOA followed by lifting of all the UN Security Council sanctions as well as all economic and financial embargoes by the US and the European Union imposed on Iran's banks, insurance, investment, and all other related services in different fields, including petrochemical, oil, gas and automobile industries will be immediately lifted all at once.
These sanctions have prevented civilian airlines based in Iran from obtaining western-made planes and spare parts. As a consequence, operational safety has often been pushed to the limit.
Before 1979, Iran had only experienced 189 airline fatalities but in the time since, that number has grown to at least 1,672. However, now that a deal has been reached to limit Iran's nuclear ambitions, a new opportunity is presenting itself to suppliers such as Airbus and Boeing. Both of whom are eyeing a market opportunity estimated at close to $20 billion to upgrade the ageing civil aviation fleet in Iran.
When you compare the average age of the Iranian fleet with other airlines, the magnitude of the problem is obvious.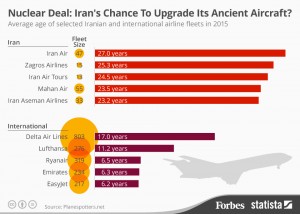 The vast majority of civil aircraft are leased, because of the operational advantages and tax benefits. Quite who will finance Iran to give them access to Airbus or Boeing technology remains to be seen.
While some in the US are arguing against signing the Iranian agreement and easing sanctions against Iran companies such as Boeing and their powerful lobby in Washington DC will not be among them.